So, I was going through all the LOs I've created in the past 2 years. Has it really been 2 years? My friend, Shelley sent me a link to a digital scrapbook tutorial at
SCS
. I really got involved in the digital aspect for quite a few months. Got lots of LOs of my family scrapped. And I was using PSE3. I stopped digitally scrapping for several months, but for some reason picked it back up in May. And I've been on a scrappin' frenzy ever since. I've come a long way since those first LOs.
The one thing I regret about my first attempts at digiscrappin' is that I did not know the rules for credits. So I do not know to whom to give my credits for this layout.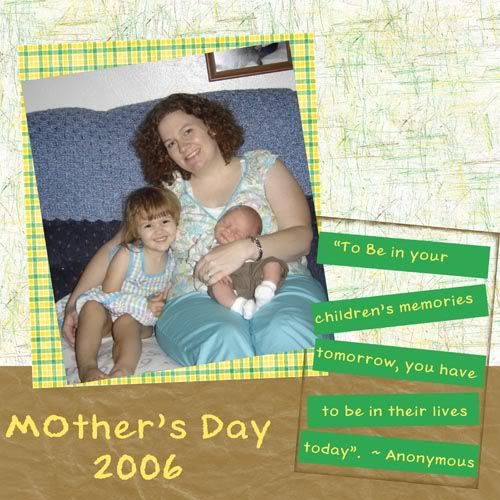 And here's an attempt at creating papers and ribbon. Pretty good stuff for someone who had no idea what she was doing: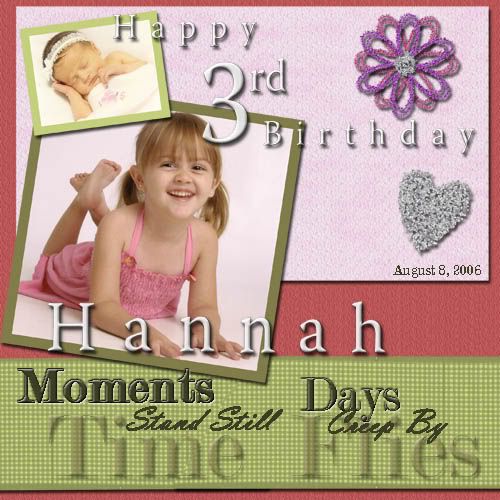 And I DID know to credit the designers by this time in my scrappin' life! The rest of the elements are from Lauren Bavin, Melany Violette.
This LO was created using Go This Way by Amy Bleser (still one of my favorite designers).
And lo and behold! I found my very first LO. I used a tutorial at Digital Scrapbook Place to create thus LO
And now, my most recent LO, using Timeless by Debbie McKenzie of Digi Illusions. I created this for the Sketch Challenge at Stone Accents Studio.
I also created this one for one of the blog challenges at Elemental Scraps. I am LOVING how it has turned out!! Click on LO for full credits.
Last night we had My 30th Birthday Round 2. We had about 10 friends over. A good time was had by all. . . a good adult time. And I didn't wake up to my head in the toilet! Won't be doing that again for some time. I want to be 25 lbs down before I party like that again. That gives me 3 months until Crystal's 30th birthday party. Here's to losing!